The recent NATO summit in Madrid was decidedly for the hawks: with Sweden and Finland seemingly having reconciled with Turkey and wide-ranging packages of support announced for Ukraine. Scarcely in recent memory has the Alliance seemed so resolute.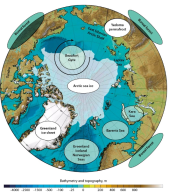 The need to help Ukraine is self-evident. Russia's campaign against Ukraine's people deserves our full condemnation. But there are crucial areas — such as climate change and preservation of the Arctic — where our and global interests will be worse off if we don't work with Russia.
As polar regions grow warmer, there are no winners from a failure of co-ordination on Arctic policy. Disappearing sea ice and warming temperatures are likely to lead to competition for resources, territorial disputes and increased maritime activity. The Arctic, which has warmed three times more quickly than the planet as a whole, has long been described as our world's "canary in the coal mine".
The defence implications are also significant: Russia has expanded its military presence in the High North in response to thawing sea routes, while NATO's footprint in the region has also grown with Swedish and Finnish application for membership. On the far-north Norwegian island of Svalbard, tensions between Norway and Russia have spiralled into a diplomatic crisis.
It does not have to be this way. Functional Arctic coordination should not diminish the west's ability to assist Ukraine. Arctic institutions have long been able to compartmentalise and, in the case of the Arctic Council, put security aside entirely in order to focus on pressing global environmental or community-centred issues.
Russia became the chair of the Arctic Council last year and enjoys agenda-setting powers; in March, Western states jointly announced an immediate suspension of their participation.
Since then, a multinational research expedition to study the ecology of salmon was nearly derailed, and researchers on algal blooms linked to rising temperatures in the Chukchi Sea were barred from continuing their work in Russian waters. To casual observers, none of this portends global doom. But even in 2014, the previous high-point for tensions, there was never this level of disruption.
Mutual distrust, sanctions and short-sighted priorities threaten to make genuine collaboration difficult to achieve. In fact, there are significant precedents at NATO level: during the whole Cold War the Alliance had a specific collaboration programme with Soviet scientists, called Science for Peace. The onus is on western governments to differentiate between areas of mutual interest and those which require a clear riposte to Moscow.
Should they fail, future generations will suffer the consequences.
*This article is a condensation of the previously published: Jason Pack, "The west must work with Russia to save the Arctic," Financial Times, June 30, 2022.