"Those who play with fire will perish from it." The overall message Chinese leader Xi Jinping conveyed to U.S. President Joe Biden during the July 28 phone call is harsh.
After the Speaker of the House visit (Nancy Pelosi), Beijing announced the end of bilateral cooperation in the following areas:
1) Calls with leaders
2) Defense meetings
3) Maritime Security Consultation
4) Climate Change Talks
5) Anti-Drug cooperation
6) Transnational crimes
7) Illegal Immigration
The Taiwan Strait is now one of the most dangerous places in the world, where frictions between the United States and China are likely to flare up. And Beijing right now has full interest in demonstrating its outrage not only at regional level.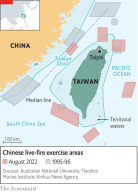 The Chinese Communist Party sees Pelosi's visit as violating its sovereignty. Unification with Taiwan is considered a prerequisite for achieving the goal of China's "great rejuvenation" by 2049, set by Xi. Beijing has long tried to show its resolve toward Taipei.
The Chinese leader has always paid close attention (also for reasons related to his personal history) to the island's dynamics. He now fears that local independence sentiment will be stimulated by a change in the U.S. "One China" policy (which does not recognise the Taipei's Republic of China but only the People's Republic of China). Xi wants to show all his resolve.
Beijing has begun to wonder if the U.S. "strategic ambiguity" over Taiwan's defence is coming to an end. This distinguishes Pelosi's visit: it comes when Beijing believes the United States is moving away from its Taiwan policy.
In addition: during previous crises, China had an overriding interest in preserving a constructive relationship with the United States, while now relations between the two powers are deteriorating sharply. Everything suggests that escalations may open up in the long term.
Meanwhile, in the short term, China will hit Taiwan with greater intensity cyberattacks and economic/commercial retaliatory measures (cutting off the market to many Taiwanese goods). In addition, drills around Taiwan will become increasingly intense. They had already violated the island's territorial perimeter, and the days after Pelosi's visit, China's PLA launched ballistic missiles into Taiwanese waters for the first time since 1995.
A much more dangerous era has opened for cross-strait relations. China, which has improved its military capabilities and is less concerned about preserving relations with the United States, is now much more willing to respond to what it perceives as a provocation with escalation.
Beijing seems more comfortable with the prospect of a crisis over Taiwan (and the reaction to Pelosi's visit wants to demonstrate this).
Xi might also believe that international support for Taiwan – of which Pelosi's visit is a strong indication – is growing too rapidly. For this reason, China may need to deter, with an extraordinary response, other countries from working with Taipei to increase its international connections (and thus its defences and resilience).
Emanuele Rossi
He is an author and is specialised in international affairs and geopolitics with a focus on transatlantic relations, USA, China, Middle East.