In the aftermath of the normalization process that took place last year between Türkiye and Emirates on one hand, and the prudent rapprochement between Ankara and Cairo on the other hand, new channels were somehow opened regarding the thorny question of the Libyan dossier. The Ankara-Cairo rapprochement started with a shake hand last winter in Doha during the FIFA 2022 World Cup between President Erdoğan and President al-Sissi. A ray of hope emerged from the two Eastern Mediterranean pivotal states' relations regarding the complex Libyan dossier.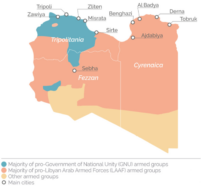 Ankara sought a comprehensive element to help the pacification process among Libya's political factions. For several years Türkiye was seen as a challenger of Egypt's national interest and influence in Libya; particularly on the maritime front in the Eastern Med, Turkish geo-politics and economics defiance was taken seriously by other neighbouring maritime countries.
In 2019 Türkiye and the Government of National Accord (GNA) of Libya signed a Maritime Boundary Treaty, establishing an exclusive economic zone (EEZ) in the Mediterranean and in 2022 a preliminary energy exploration MoU was equally signed. Greece and Egypt were seriously concerned that the agreement may fuel an energy showdown in this region on another delimitation dispute. Cairo rejected every Turkish claim present in the 2019 and 2022 memorandums and signed a new intergovernmental cooperation memorandum with Greece to bolster its earlier EEZ agreement in 2020.
Starting from Libya, Türkiye tried to seize the opportunity to be a stabilizing force in the African Sahel via its humanitarian diplomacy instruments, led by the TIKA (Turkish Cooperation and Coordination Agency), with a positive minds and hearts impact on African populations at large
Consequently, Ankara is pushing for a stable Libya, supporting the election process that is put in place by the UN Secretary-General Special Envoy in Libya, the Senegalese diplomat Abdoulaye Bathily, trying to break a long-standing impasse. Initially Ankara did not enjoy significant political support by a very fragmented local elite, but in time, while securing a consensus in Tripoli, Türkiye has been reaching out to the eastern faction in Tobruk. Last winter, Hakan Fidan, head of the Turkish National Intelligence Organization (MIT), met with the Libyan political leaders in Tripoli and Tobruk, a few days after the visit of the CIA chief, William Burns to Libya, shoring up Ankara's support.
Nevertheless, Ankara struggles to adjust its way forward Libya's policy in light of the political and military dynamics within the unpredictable Libyan political elite. For instance, remarkable is the shift of Fathi Bashagha, former Interior minister in the previous Tripoli-based Government of National Accord (GNA), by changing side and join the rival Tobruk-based government. Once the spokesperson for the Misrata Military Council, Fathi Bashagha was known for his strong ties with the leading Muslim Brotherhood parties in Libya and Ankara, and as the GNA's interior minister, some perceived him as more powerful than then-Premier Fayez al-Sarraj. With Turkish support, he also played a key role in avoiding the fall of Tripoli in the hands of General Khalifa Haftar's Libyan National Army during 2020. This event changed deeply the civil war and its narrative.
In 2022, he made a deal with General Haftar and the HoR Speaker Aguila Saleh, who picked him to form an interim government on the grounds that Premier Abdelhamid Dbeibah's Tripoli-based government's term expired on the 24th of December 2021, when nationwide elections were postponed under a UN peace plan. This switch of sides forced Erdoğan to reshape its Libya policy.
Subsequently, Türkiye is talking to both Libyan governments, trying to avoid any surprise that would hurt its long term Libya strategy, while keeping better relations with Algeria, Egypt and Tunisia. President Erdoğan is in a crucial time for his political future, and legacy, because on the 14th of May Turkish general elections may reshape his whole MENA policy and legacy.
After these elections, Türkiye's new strategy will be clearer vis-à-vis the Libyan conflict dynamics, once the elections will consolidate the main internal policy decisions, who in turn will strengthen the action on the ground. One of the main advantages of Ankara is still is considerable coherence in its political and strategic direction.
Turkish elections have a strong influence on Libyan affairs: Turkish opposition MPs, for instance, during a recent trip to Benghazi stated that they did not support the Turkish government's maritime deals signed with Libyan GNA in 2019; an AKP victory, instead, would strengthen Ankara's position in Tripoli, Tobruk and Cairo, on the path of developing Ankara's role as important stabiliser in Libya, Northern Africa and the Sahel.
Abdennour Toumi
Abdennour Toumi is a specialist on Maghreb at the Center for Middle East Studies (ORSAM) in Ankara and a free-lance journalist.