After the visit of the Chinese President Xi Jinping to Saudi Arabia at the end of the last year, a new high-level meeting in January 2023 confirmed the noticeable tilt towards east of many Gulf countries, a trend that has important implications both in terms of hard security and energy transition. The visit of the President of South Korea Yoon Suk-Yeol to the United Arab Emirates (UAE) at the head of an important business delegation that included chaebol tycoons (big industrial conglomerates, from Hyundai, Samsung and SK Group, among others) confirmed the excellent bilateral relation between Abu Dhabi and Seoul, eager to reinforce their partnership well beyond trade volumes and investment deals.
Yoon, who won the presidential elections last year as a candidate for the conservative People Power Party (PPP), took the occasion of the visit to meet with a South Korean Special Warfare Unit known as Akh (brother in Arabic), a group of about 150 troops which has been based in Abu Dhabi since 2011 for training purposes (detached from the reputed 707th Special Mission Group "White Tiger", antiterrorist special force unit). Comments made during the meeting, in which Yoon made a parallel between threats to the security of the UAE emanating from Iran and the enduring challenge to Seoul from a nuclear-armed North Korea, have evidently drawn a rebuke from Teheran, where the Foreign Ministry accused the South Korean President of making interfering statements.
Iranian criticism, however, has not refrained South Korean and the UAE from reinforcing their military cooperation, with two Memoranda of Understanding (MoU) signed during Yoon's visit. Alongside continued efforts in joint investment, research and technological developments to reinforce cooperation in the arms industry, Abu Dhabi is also expected to join South Korea's development programme for the next generation military transport aircraft. This follows a US$3,5 billion deal signed last year for South Korea to sell Cheongung II surface-to-air missile systems to the UAE (Iron Hawk II). The advanced air defence system, designed to intercept missiles altitude of 15 km at a range of 40 km, would be particularly useful to address the challenges stemming from long-range drone attacks from Iran-backed Houthis in Yemen. 
Shared concerns on security are an important facet of the Emirati-South Korean alignment, which also encompasses converging interests in energy transition, as both Abu Dhabi and Seoul have planned to be carbon neutral by 2050. Both countries' strategy will likely rely on nuclear power systems, as Yoon gradually overturns his predecessors' policies mainly driven by the 2011 Fukushima disaster in Japan but now widely considered inadequate to face the energy crisis exacerbated by the ongoing conflict in Ukraine.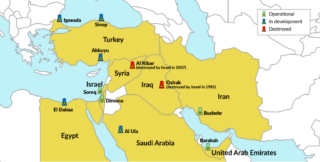 Hosting the US$20 billion Barakah nuclear power plant, jointly developed with the Korea Electric Power Corporation (KEPCO), the UAE evidently plays an important part in this energy diversification strategy, which is now echoing throughout the Middle East and North Africa. Despite the future of the Joint Comprehensive Plan of Action (JPCOA) has yet to be written, with ramifications that could potentially alter Saudi Arabia's defence posture, countries like Egypt and Morocco are moving forward with their own nuclear power plants, raising important questions about nuclear proliferation and dual-use nuclear technologies in a region generally considered volatile, unstable and conflict-prone.