The annual meeting of the Shanghai Cooperation Organization (SCO) has certified the existence of an alternative geopolitical bloc including powerful non-western actors, such as Russia, China, India and Iran, which has definitely become full member of the organization on July 4. In this evolution, Central Asian countries (which were among the founders of the organization) and the achievement of their strategic interests have been progressively marginalized, due to the fact that SCO has gradually moved from a regional dimension to a "wider" Asian dimension following the membership of India, Pakistan and now Iran.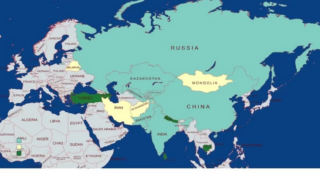 Indeed, SCO's enlargement has produced two significant results: firstly, SCO has gradually lost its original dimension as a regional security bloc, because when it was institutionalised in 2001 SCO's main goal was to fight the so-called "three evils" (extremism, separatism and terrorism) and narcotics trafficking, as well as promoting regional security and economic cooperation among members, namely Kazakhstan, Kyrgyzstan, Tajikistan, Uzbekistan, Russia and China (SCO Official Website, www.sectsco.org). Since the beginning, SCO has adopted a non-interventionist approach to regional crises which involved its members such as in Kazakhstan (2022), Kyrgyzstan (2005, 2010, 2020), Uzbekistan (2005) as well as in the potentially dangerous and unsolved conflict which currently involves Tajikistan and Kyrgyzstan, both SCO members.
Secondly, Central Asia has traditionally represented the focus of SCO activities but after the adhesion of India, Pakistan and Iran the geographic umbrella of the organization has been expanded beyond Central Asian borders. For the main influent members (Russia and Iran and, in different and lesser extent, China and India) SCO is conceived as a kind of geopolitical tool to counteract the West (US, NATO, EU) but this approach is not totally shared by Central Asian states which cooperate with NATO and the US in the military and security fields and also look for American and European investments (Vali Kaleji, What Will Iran's SCO Membership Mean for Security Arrangements in Central Asia?, Eurasia Daily Monitor Volume: 20 Issue: 112, July 12, 2023).
During the SCO virtual meeting, Central Asian presidents focused their speeches on economic issues and the need to reform the organization. Kazakh President Tokayev and Kyrgyz President Japarov underlined that in more than 20 years SCO has failed to promote projects of regional cooperation. Uzbekistan's President Mirziyoyev proposed a document – the Code of Good Neighbourliness, Trust and Cross-border Partnership of the SCO – which will help to identify organization's priorities and to strengthen multilateral cooperation in the changing geopolitical landscape. Moreover, the idea to promote a renewed economic dialogue covering innovative industries (digitalization and robotics, artificial intelligence, biotechnology, pharmaceuticals) sounds very promising for the SCO's future evolution (Uzbekistan: President Mirziyoyev proposed to adopt the SCO Code of Good Neighborliness, Trust and Cross-Border Partnership, News Central Asia, July 5, 2023).
By assuming the SCO's upcoming chairmanship, Kazakhstan could concretely set an agenda of reforms to make SCO more active. In addition to the economic and trade issues, President Tokayev stressed that security and stability remain the main priority, and Kazakhstan will present the initiative "On World Unity for Just Peace and Harmony", aimed at strengthening confidence-building measures in a multipolar world (Kazakhstan at SCO Summit: President Tokayev urged to remain committed to the formation of a multipolar world with the coordinating role of the UN, News Central Asia, July 5, 2023).