On the 8th of June, Kazakhstan's capital city Nursultan hosted the third annual Central Asia-China meeting according to the 5+1 format, which Beijing launched in 2020 during the Covid 19 pandemic. This meeting had a significant relevance this year, following the potential impact of the Ukraine-Russia crisis in the region, in order to better understand Chinese and Central Asian positions towards the Russian assertive policy in the post-Soviet space.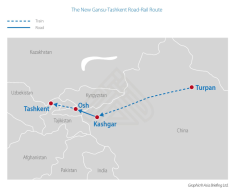 Chinese Foreign Minister Wang Yi focused his speech on geopolitical issues, affirming that "the region should be on guard against attempts by forces outside the region to draw regional countries into major power conflicts and force them to take sides" as well as exhorting Central Asian countries to avoid external interference and to strongly cooperate to preserve regional stability and security (J. Lillis, China hectors Central Asia to steer clear of big power politics, Eurasianet, June 8, 2022).
These were clear references to the official visit of U.S. Assistant Secretary of State for South and Central Asian Affairs Donald Lu in Kazakhstan, Kyrgyzstan, Tajikistan and Uzbekistan at the end of May, that Lu presented as a positive result and success of the C5+US cooperation format (C. Putz, Geopolitics and China's Engagement in Central Asia, The Diplomat, June 9, 2022). C5+1 format currently is the privileged framework of cooperation supported by both China and United States, aimed at enhancing relations with the five Central Asian republics within an inclusive dimension which includes economic, political and security issues. For China, this format represents a clear shift from its traditional strategy towards the region – mainly based on bilateral relations – to a regional approach which is the key driver to promote interconnectivity's plans and multi-level cooperation, both factors which characterizes the Belt and Road Initiative 
In spite of geopolitics issues, Central Asian republics appear more interested on trade cooperation and connectivity projects, mainly to receive Chinese economic and technological support to improve transport links (railways, highways, bridges) that are necessary to promote and increase cooperation among them as well as opening new export routes to reach international markets.
The construction of the railroad connecting China-Kyrgyzstan and Uzbekistan – a long-awaited project, namely CKU – was discussed during bilateral talks among foreign ministers of the involved countries. In May Kyrgyz Prime Minister Japarov declared that works to realize the domestic section will start in 2023. CKU could represent a promising option to diversify trade for Kyrgyzstan and Uzbekistan considering that this route will be a segment of a wider railway project (which should also involve Afghanistan, Pakistan as well as Turkmenistan and Iran) allowing these countries to reach Indian Ocean, Arabian Sea and the international markets.
China and Central Asian republics appear concerned about a potential destabilizing impact of the Ukraine crisis in the region because this could be an additional risk to the security situation, provoking a delay in the realization of interstate infrastructures as well as affecting Chinese huge investments in the region (railways, pipelines, energy sector) within the BRI project. The idea to organize a C5+1 summit including the heads of state shows how this format of cooperation is becoming the privileged-high level forum of political dialogue in the region for both sides.